Our 2010 20th Anniversary Challenge Coin
October 24th, 2015
Former Commandants at the Luncheon
Our 2015 25th Anniversary Challenge Coin
Richard Patrick, Andrew Blizzard, John Staley, George Steenson, Suellen Beaulieu, John Dilday, Bob Peters and John Skuce
Our October 27, 1990 Charter
A work in progress...
If you have old records - Scuttlebutts or Meeting Minutes
From 1990 - 1999 please contact the Web Master.
A Little History From the SCUTTLEBUTT
1995 - December
20 Dec 1995. NCSU Bell Tower, Raleigh, NC
Commissioning Ceremony for Alan H. Harper
L to R: Larry Gilmartin, Jim Nivers, unknown, Greg Howe, O.A. "Buzz" MIller, Jim Mills, Alan Harper, Bob Peters, Bob Watral
2006 - January
OFFICERS FOR 2006—L-R, Russ Oliver, Sr. Vice Cmdt.; Robert Gonier Chaplain; John Staley, Judge-Advocate; Jack Petrarca, Cmdt.; Richard Patrick, Junior Vice Cmdt.; Tom Sneed, Sgt-at-Arms and Jim Niver, Adjutant-Paymaster.
2008 - May Our Last Car Show Fund Raiser
2009 - June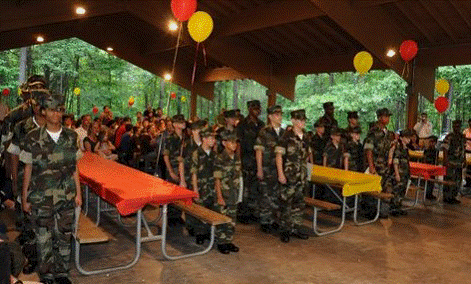 Monday. June 15, was a monumental day for 24 young
recruits of the Marine Corps League sponsored Capital
City Young Marines. This was the day that culminated 13 weeks of "boot training" and they officially became Young Marines.
Prior to graduation the recruits were not allowed to wear the
woodland pattern utility uniform. A time-honored tradition of
unbuttoning the top button of the uniform and blousing of the
trousers concluded the rite of passage and they were officially recognized as Young Marines.
Guest speaker for the occasion was Jim Haslam, Commanding Officer of the 3rd Battalion, 1st North Carolina Regiment, Young Marines. He stressed to importance of honoring the Young Marine Oath and Creed.
Guest of Honor was Commandant John Staley. He assisted
Commanding Officer Kim Gibbons with the handing out of
Honor Recruit certificates and the promotions of the Honor
Recruits.
2011 - Jan
Several Detachment members paid a visit to the Hope for Warriors at Camp Lejeune in December
to deliver several cartons of donated pajama bottoms. From left-right are Jim Haslam, Debbie
Bradfield, Amanda Leff, George Steenson, Peggy Rochon, Robin Witcher and John Staley. Robin
was instrumental in obtaining the pj's and is holding a pair.
2011 - July
Kimberly Gibbons, Commanding Officer,
Capital City Young Marines and Executive
Officer Matt Stokes, presented plaque to
Sandy Mazzu at the June meeting. The award was in recognition of his continued financial support to the Young Marines.
2012 - April
2012 - December
Tar Heel Detachment 733 Past Commandant George Steenson was instrumental in forming a new detachment, Oriental Dragon Detachment 1413. On 7 Dec the 1413 had its formal Chartering Ceremony and swearing in of officers. Here are pictures of the new detachment members, the cake, MCL members in attendance and newly sworn in Commandant Steenson, DoNC Commandant Gregory Hunt and Mideast Vice Commandant Bruce Rakfeldt. Tar Heel Detachment members present were: Jr Vice Commandant John Dilday, James Cox, Russ Oliver and wife, Susie, Jeff Jones and Bill Mize and wife, Jane. Congratulations and Best Wishes 1413 from the Tar Heel Detachment.